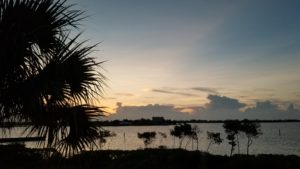 So much time has past since my last writing here, it's overwhelming just reviewing all that has happened. Even traveling backwards in time via the photo editor while multitasking my Duolingo French, so many feelings. Sadness, hope, joy, and bittersweet memories of this journey, so far. So far because I/we are still on it. We are still camped out in other's homes (Thank you D&D & Charlie) while the therapizing of RB continues. We are still traveling back and forth to Emerald Dragon every month, "On the hard," in St. Augustine at the Oasis Marina (a great place BTW, family owned, friendly, ethical & above all kind!).
Life has brought me on quite a journey this year. The previous year had me summarily expulsed from a marketing company I had helped build up and as a result decided that my almost 60 something year life was due for some overhaul, or at least review. The bounce hurt & I work to forgive for the betrayal that cheated me from the relationships, and the financial gains that I feel/felt I deserved. I mostly focus now on the positives I gained from the experience, I learned much  including how to build and maintain a simple website like this,& get everything in writing. 😉
My desire to travel via our sailboat Emerald Dragon was the both the start of and the culmination of my split with the ex business partner. Her "meltdown into melodrama" was precipitated by the suggestion to her that I (&my husband) wanted to take the boat south again as we had twenty years prior. He -approaching seventy, and I -approaching sixty, wanted to be able to do this while we were still healthy. He had developed a heart arrhythmia that seemed mostly under control. After several months worth of fruitless negotiation, and legal action after my expulsion, and winter approaching, the timing seemed right.
Prior to our leaving my husband and I experimented with various ways to generate income from a relatively successful house flip, to AirBnB-ing our waterfront home. I continued to maintain (& still do) several of the social media accounts with folks who chose to maintain a relationship with me. I also began working through several "Self Help" oriented books from Jack Canfield's The Success Principles , to The Artist's Way, Julia Cameron, and most recently The Happiness Project by Gretchen Rubin.  As we traveled I connected with and maintained connections with a Master Mind group started by Bonnie, a realtor at the Severna Park Chamber of Commerce, the Annapolis Toastmasters group, as well as a support group of friends who are all therapists and coaches by trade.
I'm blending past and present here a bit.
Through an amazing set of circumstances I connected with Tracey, the woman who would become our tenant, renting our house, fully furnished (somewhat cleaned out already due to the AirBnB thing). She loved the place and needed a home that came furnished and ready to go. I love Win/Win outcomes.
With most of our mortgage covered we were able to budget a 6-8 month trip returning to MD in the spring of 2019. We began our journey south in the Fall of 2018 traveling with our friend Dave on his boat Island Queen, another CSY similar to ours. He was a beloved connection and backdrop to much of our journey dropping everything to help move the boat after Robert's stroke.
We had several memorable stops along the way; Solomon's Island,The Dismal Swamp, Thanksgiving in St Mary's, Thunderbolt Marine (Savannah,GA), Pompano Beach , Key West, Suntex Hollywood Marina, St Augustine, and of course Melbourne Yacht club & Ft.Pierce. Unfortunately these locations were often the site of some of the more dramatic events of our trip beginning with my brother's hospitalization just before Christmas (Pompano), the death of our dear friend and neighbor Bill Flohr (Suntex Hollywood Marina, and culminating in my husband's stroke while underway in Melbourne Florida.
Fast forward some to July of 2019, the joys and challenges of circumstance have us here at Charlie's place overlooking the Inland waterway in Ft Pierce. My husband's stroke while underway, brother's fall and subsequent realizations about his (& my mom's) living situation, my mother's hospitalization, and all of the small moments of both terror and small (& great) beauty along the way.
New friends, and the support and love of old friends, the online family, many of whom I will never meet, my french studies, self studies, dreams, and art, and newfound communities of cruisers, stroke victims, yoga students, marina owners, all caring, helpful, generous folk are who & what have made each of these journeys a blessing.
Next, new doors are ready to be opened, life without (or at least much restricted) alcohol use, Jimmy Buffet songs about the sailing life to be challenged. Healthful new ways of being together, mentally, emotionally, and physically are developing. Moving back on to Emerald Dragon for further adventures of some sort, whether cruising or getting her ready for the next generation of adventurers. More land based and mental/spiritual journeying (anyone toured the Navy Seal Museum yet?). Learning about coaching, both myself and others as a potential career & area for growth, reclaiming my artist self as a painter, photographer, writer, publisher, and healer.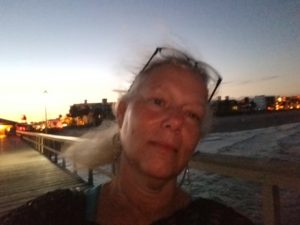 There's hope in this future, & appreciation of the now, such is the journey as it continues.