Many Voices With the Ultimate Aim of Peaceful,
Fruitful Contributions to individuals & All Our World(s)
Aha Moments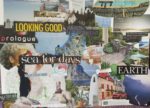 Life is so very short, an eye blink. As one friend says, "The days are long, but the years are short." We create and host shared experiences with friends or potential friends to connect you with your deeper selves via Art-making, Spirit-raising, Depth-connecting experiences.
Group Connection & Coaching Calls
Community and soul building discussions working through themes such as  Jack Canfield's The Success Principles 
or Mark Nepo's Seven Thousand Ways To Listen we grow both as individuals and collectives towards a greater becoming. Calls are weekly or monthly depending on the group.
Engaged and Engaging Social Media Management
15+ Years officially in the Biz. Through interview and creativity together we create, & I execute (not an overseas contractor) your small business persona out in the digital world.
Births, Deaths, Weddings, & Coming Of Age, Divorce;  Co-Created Rituals for all of Life's Journeys
Officially ordained with a lifetime of designing and officiating these concentrated moments marking the passages we move through.
Most important is a Discerning, Listening Ear
The No B*ll$h*t, Call you on all your Cr@p, Coaching experience. If you have a challenge, a desire to change your life, a drama you'd like a second unbiased opinion on – let me know. I'm good at it.
Next Steps…
Fill out the Contact Us Page to Learn More