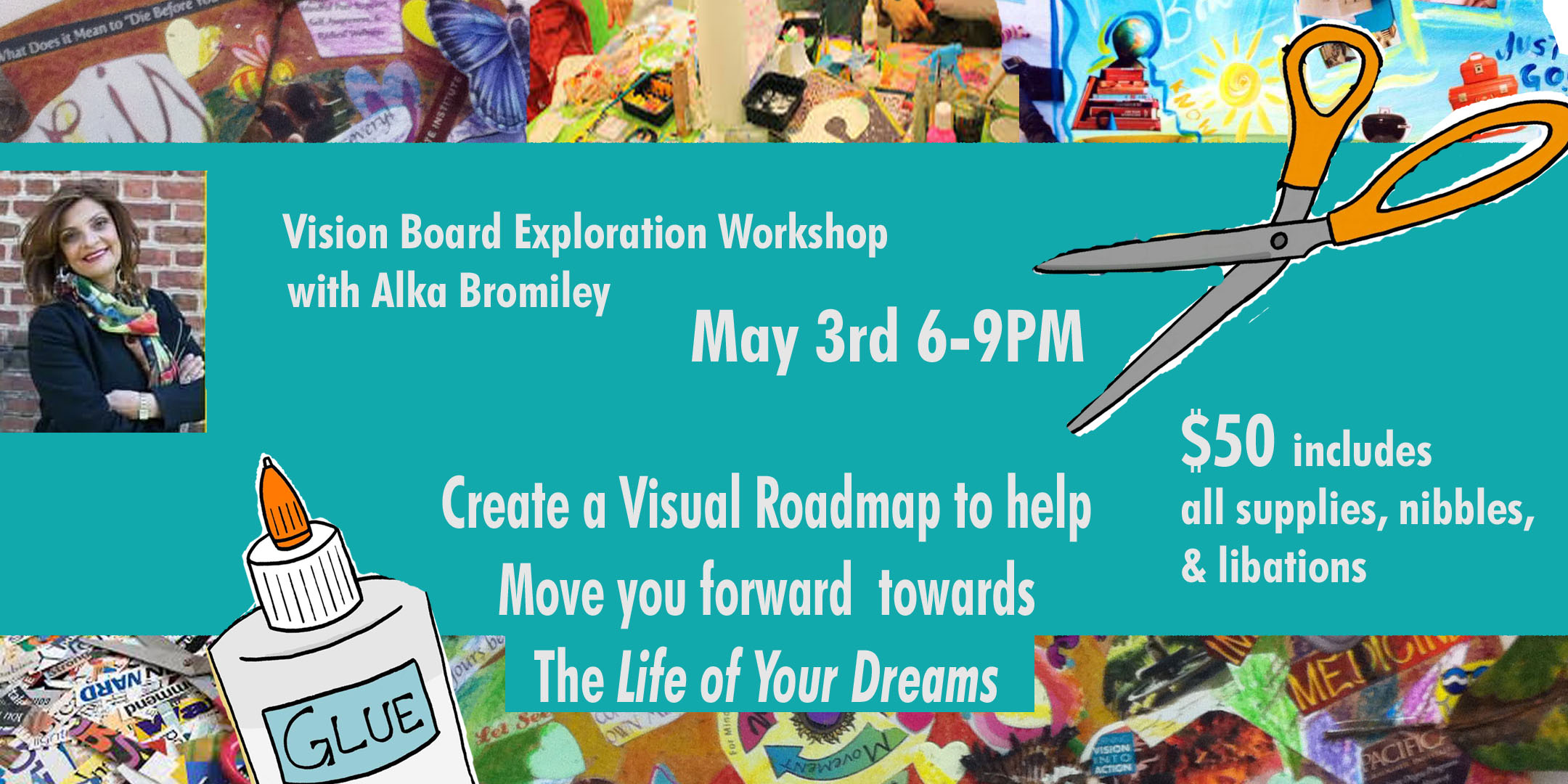 Alka Bromily & Jessica Graves present:
A Vision Board Exploration Workshop
It's wonderful to have friends that share the same vision of possibilities that you do. I have been wanting to create a physical #VisionBoard for almost a year. That's about the time that I started working with a local #MasterMind group using Jack Canfield's "Success Principles" as a base for our explorations. It's great work, the primary take-a-way being, you attract what you focus your attention on. Not a new concept, not even the 1st I'd heard of it. For some reason, timing, circumstance, whatever, this time I really 'HEARD' it. Being artistically inclined the appeal of creating a vision board is powerful, the editing, the process though, are new to me.
That's why I was so excited to learn that Alka was to be teaching, (perhaps guiding is a better choice of words) one of her Vision Board Explorations with another friend Jessica Graves, a very talented artist (painting, jewelry, you name it). Imagine my delight!
A #VisionBoard is so much more than just a fun art project though. It can be a very powerful tool to connect & harness your unconscious mind on to those directions, ideas, and objects that you desire. By looking at your vision daily, you connect with those good feelings that having what want will bring. I heard it said by Mary Morrissey, life & prosperity coach, that you. "Can't get to your goals, you have to come from them." A Vision Board gives you a way to materialize just what your dreams and goals look like. A #VisionBoard becomes a sign post for your desired life & goals.
So here it is, hope that you will decide to come spend an evening exploring your dreams with us…
May 3rd, 6-9PM, $50 (Supplies & refreshments) For tickets: http://bit.ly/2JoPs9v